Hand made, small batch
Cocktail provisions made in the heart of North Carolina. You provide the spirits and we can provide provisions to take your cocktail from basic to inspired!
Visit our online shop to learn more about the individual varieties of Remedy Cocktail Company Bitters, and to purchase our products.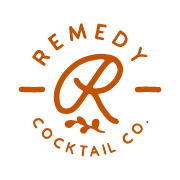 We are driven by a passion to create something new and serve something excellent, whether it is to our own guests, our friends and family, or our customers. Creativity and authenticity are core elements to our flavors and cocktails. While we may provide inspiration and cocktail recipes we believe what we provide are just the building blocks for something authentically you. Whether you are looking for the perfect cocktail to serve at a party or you are a business looking to create an even more unique and authentic experience for your clientele we look forward to connecting with you.
Apple ginger warmth for a cold winter day. Slightly tart with sweet apple notes and a dry ginger finish. This bottled in bond apple brandy packs a punch so just don't put them down too quickly.
Sign up for updates, offers, and coupons
We won't ever sell your info and we hate spam as much as you do. Promise.